Home
Welcome to Green Fortified Homes
The housing markets in the Coastal region of the Carolinas are grappling with the demand for more environmentally sensitive, healthy and structurally sound homes. John Mooring Builder Inc. has answered those concerns with the Green Fortified Homes Program.

"We seek two things of our buildings. We want them to shelter us. And we want them to speak to us-to speak of whatever we find important and need to be reminded of."
John Ruskin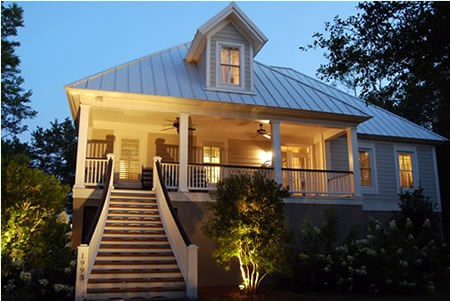 The Program is based on thirty-two years of experience in learning about and building the best possible homes-homes which satisfy the demands of energy efficiency, safety and beauty. By combining products which address the aims of the Green Movement with the Fortified …for Safer Living® Program, John Mooring Builder Inc. can provide the ultimate shelter. Many homeowners of Fortified homes qualify for reduced homeowners' insurance premiums.
The Market Speaks
"Every good quality that you would want from a builder is what you get with John. He is fair, his quality is excellent, and his buildings perform as intended. He puts more into every home than the owners will ever know. But you can sure see it from their low energy bills."
Michael Nicklas, Innovative Design, Inc.
Recommendation of John Mooring as 1992 EEBA National Builder of the Year